​PIM - Get control of your
product information and data
With a PIM system, you can ensure full control over the company's product data, free up precious time and reduce time-to-market, so that the focus can be directed towards creating growth in the company.
Do you want to know more? Read on or contact us.


Create value with a PIM-system


At itpilot, we have no doubt that a PIM system will become an essential part of companies in the future. To be successful with online shopping, it is essential that the customer has a good shopping experience. This is ensured by your goods being presented in an informative, inviting, and consistent manner across all channels.
A PIM-system is very valuable for many companies, because:
It contributes to the streamlining of internal processes and manual work
It strengthens sales and marketing efforts by always providing updated product data
It reduces time-to-market by allowing products to be quickly created and updated across channels


What is PIM?


PIM is short for Product Information Management and is therefore a system that provides full control over all product data in one place.
In short, a PIM system is a central database with product information, which is handled through a user-friendly system, where several users have access to the same product data. This ensures that you have up-to-date product data across all the company's departments nationally and internationally.
The PIM system can also talk with other systems in the company and thus becomes a link between the sources of your internal information from e.g. ERP and sales as well as your distribution channels such as CRM, webshop, social media, data sheets and so on.
It gives you a Master Data Management (MDM) solution, whereby you achieve a Single Source of Truth.
A PIM system is for you if you:
Struggle to keep track of product data and ensure a high quality of it.


Are unable to deliver data to different systems and channels fast enough.


At the same time use many resources to align your data across channels.


Have a company that operates in several markets and languages.

Have a complex organization with many stakeholders.

Have a complex categorization of your products and many related data.

A PIM system can, among other things:
Ensure that all product names are written uniformly, so that there is no confusion between the different sales channels.


Ensure that all your products have consistent and presentable descriptions and material in the form of texts, images, and videos.


Create a consistent product structure for all brands and categories - regardless of supplier and source.


Make it easy to build relationships between products for use on all sales channels so that you can present the customer with similar products that can lead to additional sales.


Give a consistent experience of your company across geographical markets or languages.


Give you a Single Source of Truth. This happens when everyone in the company uses the same centralized data across the organization. This is also essential when making business decisions.
Keep track of all product data
When your company invests in a PIM-system, you ensure that your omnichannel marketing strategy is carried out through the right channels. Easy. Quickly. Effectively.
The more channels your company uses, the greater the demand that the product information is always correct and up to date across all the company's sales channels and platforms. Both when it concerns your webshop, website, Facebook campaign, printed product catalogues or advertising videos.
Through a PIM system, you can easily maintain an overview of all the company's product data - even if it is complex products and products with many different variants and accessories.
In addition, a PIM system also helps ensure consistency and accuracy across all channels and platforms. It could be a standardization of the way in which product characteristics are presented, so that, for example, the size is stated in the same way everywhere (and not in different variants such as XS / Xs / X-Small / X Small and the like). This helps to ensure that all products and product variants can be searched for on the company's sales channels.
Advantages of a PIM system
There are many advantages to implementing a PIM system in your company. We have collected some of the biggest advantages below.
Integrate your PIM system with your other systems
To get the most out of a PIM system, it should be integrated with the company's other systems. For example, it can be integrated with your:
ERP system
​Financial system
CRM system
Web shop
​Marketplaces like Amazon
Adobe InDesign
Google Merchant Center
Social media, including Meta/Facebook
BI platforms
​Newsletter system or Marketing automation system
At itpilot, we have extensive experience in integrating data from your PIM system into different systems. We can therefore also advise you on which systems your PIM system advantageously can exchange data with.
Through various integrations to your other IT systems, I can automate a large number of manual work processes that you have today. We can advice you, if you are in doubt about how you tie your PIM system together with your other IT systems.
Our experience is that investments in creating these integrations - and thus digitizing a large number of manual work processes - are quickly earned back.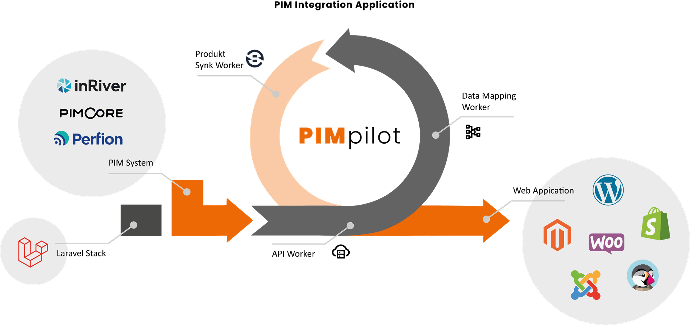 PIMpilot connects your PIM system with your webshop
​We have developed a system that processes and synchronizes data from your PIM system to your webshop. We call it PIMpilot. PIMpilot is a unique cloud-based software application that simplifies and automates the integration between your PIM system and webshop.
Read more about PIMpilot here.


---
Which PIM system should I choose?
There is a lot of different PIM systems, all of which are built on the same cornerstone: A central product database. Therefore, it can also be difficult to figure out which PIM system suits your company best.
At itpilot, we have experience with various PIM systems, and we can therefore advise you on your options. Some of the most widespread PIM systems are Struct PIM, inriver PIM, Perfion and Pimcore.
If you are in doubt about which PIM system you should choose for your company, we are ready to advise and help. Contact us to find out more about your options.
Pimcore - award-winning data system


At itpilot, we work particularly with the PIM system Pimcore. Pimcore is an internationally recognized and market-leading system, which is characterized by offering great flexibility and scalability.
Pimcore has no license costs, the source code is open to everyone, and it is used today by companies of all sizes all over the world to organize their product data in one PIM system.

A solid system and major customers
Pimcore's system is extremely robust and is already used by +100,000 companies – some of the most welknown companies include Audi, Burger King, UNICEF, Deutsche Bahn, LEGO and BOSCH.

Pimcore is, among other things, named "Customer's Choice" in Gartner's 2021 survey of Master Data Management solutions.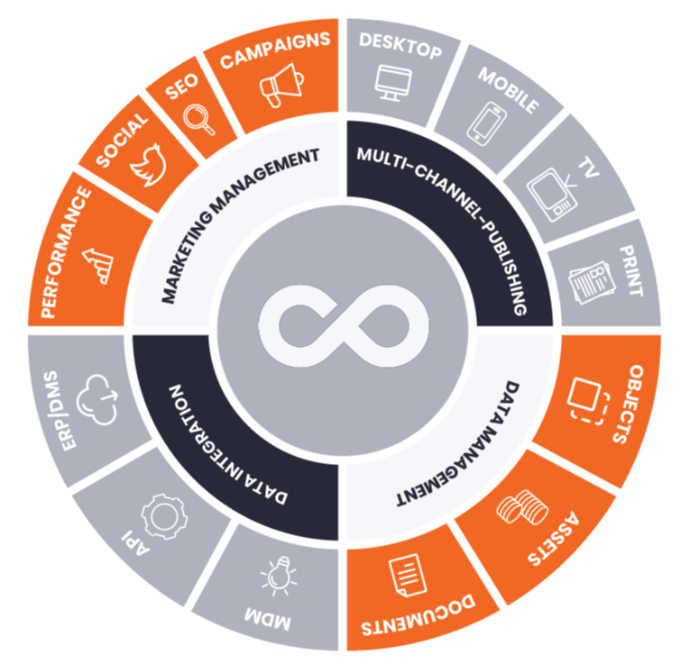 itpilot helps you succeed with PIM
We know that a PIM system quickly can become an essential system in many companies - especially if you sell your products via online channels or if you operate in several markets and languages. That is why we are ready to help you succeed with a PIM system.
At itpilot, we help you automate and digitalise work processes, so you can focus on what creates value for your company.
With itpilot, you not only get a PIM partner, but you get a proactive and long-term partner who can guide and advise you on how to get the most out of your IT systems.
We guarantee a high level of security
At itpilot, we value IT security very highly. That is why we have become ISAE 3402 certified, which means that we are recognized as an IT supplier and partner that meets all applicable requirements for IT security and quality.
With our ISAE 3402 declaration, you are ensured that we have 100% control over good IT practices and IT security - also when it comes to PIM systems and integrations with other IT systems.

Do you want to know more about PIM systems?

At itpilot, we are always ready to have a chat about PIM systems and digitalisation.
Give us a call or fill in the contact form - we look forward to hearing from you.
Get a modern, user-friendly and SEO-optimized website that engages and guides users around the site.

E-commerce is booming like never before! Create growth and become a player in the online market with a webshop that converts.

Do you have an idea for an app, or do you need one developed? We design and develop the app that supports your brand.

With a PIM system, your business will have control over all product information and data in one integrated solution.

Get an improved basis for decision-making by collecting and processing your data from various sources in a Data Warehouse.


Do you have a good idea on how to optimize your business processes? itpilot can develop a custom IT system for you.