Certifications
​Our skilled itpilots ensure that we can deliver the best digital solutions to our customers.
Therefore, we are proud of our certifications, which are proof of our professional competencies and
credibility as a partner and IT supplier.​
See our certifications here on the website.
ISAE 3402 statement
itpilot has an ISAE 3402 statement.
At itpilot, we prioritize IT security, which means that we have set a goal to guarantee our customers a high level of security on all the web and IT solutions we develop for them.​
Therefore, we have always worked hard and targeted to give our customers that security - an effort that has paid off. We are ISAE 3402 certified​, which ensures customers that our procedures and controls meet the requirements for IT security and quality specified in the international standard.

Read more about what an ISAE 3402 statement is here

We are recognized as an IT supplier and partner who fully complies with all legal requirements and always shows good IT practice. The security work results in an independent review/audit of our company's processes every year, including development, operation, emergency preparedness, self-monitoring, and documentation based on the international ISO27001 standard​.

Close cooperation with the auditing firm, BDO
In this regard, we have worked closely with the auditing firm BDO​, which has conducted random checks of our processes as described above.
The result is a report and statement from BDO based on the observations and checks they have made with us, which has given us the official ISAE 3402 certification. We are very proud and honored to have the certification, which we work intensively on every day.​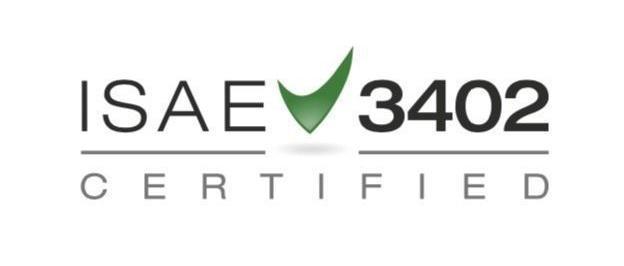 ---
​What does the
ISAE 3402 certification
mean for our customers?
A guarantee for our customers
The certification guarantees our customers that we have an IT security system where procedures, controls, and documentation meet the international security standard.​
It therefore marks that we are a company that has control over security and risks and has an overall increased quality in IT.
And a guarantee for your end customers
The certification is also important to us because our customers often have the responsibility as data controllers to protect their end customers' data.
According to the General Data Protection Regulation (GDPR), it is a requirement that customers choose a data processor and IT supplier who has implemented security measures - which we have at itpilot.​
We can also help you ensure that your web solution is compliant with correct cookie and privacy policy.
Our ISAE 3402 statement is therefore also a help to our customers' own IT security when they need to document that they are taking technical measures to protect their customers' data.

Get started on your digital transformation with itpilots

Are you ready to lift your business with modern and secure digital
solutions tailored to your needs? Then you need the itpilots in the driver's seat.
We take care of everything from design to development, compliance, operation, and support.​
Call us today if you want more information about developing your digital solution.
Or contact us on our contact page.

Website
Get a modern, user-friendly and SEO-optimized website that engages and guides users around the site.

Webshop
E-commerce is booming like never before! Create growth and become a player in the online market with a webshop that converts.

App
Do you have an idea for an app, or do you need one developed? We design and develop the app that supports your brand.

PIM-system
With a PIM system, your business will have control over all product information and data in one integrated solution.

Data Warehouse & BI
Get an improved basis for decision-making by collecting and processing your data from various sources in a Data Warehouse.

Custom developed IT-system
Do you have a good idea on how to optimize your business processes? itpilot can develop a custom IT system for you.